I have owned the Blog Engage community since 2007.
The site was founded by me, managed by me, and made possible by our loyal members. Everyday I remind myself, without our users we would be nothing. The support I have received from the blogosphere has been incredible, but this did not come easy. You know what it's like when you first start blogging?
You are lost?
You have to become familiar hosting, databases, software scripts all wile writing meaningful content.
Looking back to the past 5 years I see two extremely important elements that have brought me to where I am today; relationship building and hard work. That's right, you read it correctly, blogging is hard work.
If you are quitting your day job thinking blogging is easy do we have news for you. Blogging is hard on many different levels; mentally, emotionally and surprisingly physically.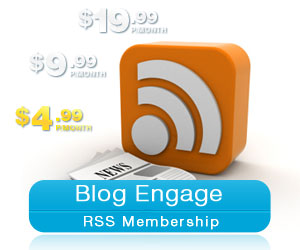 I have now been in business one year with our RSS and Social Media Marketing Services. I started the program back in May 2011 to help bloggers spend less time submitting and more time engaging. For any business to be successful you must provide a solution to a need.
If the consumer has no need for your services your business will suffer and eventually fail. Ironically, you can see consumer needs everywhere you go during your day, the challenge is finding the solution, if it was easy, we would all be rich.
Thankfully I was lucky enough to find a solution, I am saving my customers massive amounts of time, they no longer have to fill out titles , tags, and descriptions it's all done for them. This is an amazing timesaver for our customers writing 4 – 6 articles per day and do not have time to submit their own stories manually. When you find need and provide the solution that satisfies the end consumer you can possibly create a service that will remain for a long time.
A year has passed since I started the RSS Services and the market is changing so rapidly. Naturally my consumers needs are changing, in business you have to be ready to adapt to change so you can remain competitive within your target market. I have already witnessed a change of importance from my customers on Blog Engage. They still love the RSS Services but they demanded something new. The ironic thing about business is your customers rarely tell you what they want so it is up to you to understand where the market is heading and to predict what the consumers needs will be.
You can ask anyone of our Blog Engage members and they will tell you I am always looking for ways to make our community better, and not just for a select few, for everyone. To help my company grow I knew I had to have a unique service that set me apart from the others. After much thought and consideration I created a combo pack including both link building (SEO) and Social Media Marketing (Relationship Building) Services.
What I did is syndicated all my customers content into my portfolio of owned websites and third party sites such as Blog Serp, Top Blogged, Facebook, Twitter, LinkedIn and Tumblr. Our customers have been very impressed with the new social media elements and thankfully I have completed it all without any increase in cost.
The point is you have to stay ahead of your competition, offer something unique and continue being creative and innovative. This was one of the most unique things about Steve Jobs; Steve had the ability to invent some of the most sophisticated technological devices in the world.
His talent to be creative and innovative is what made the Apple company everything it is today. As entrepreneurs and business owners we have that ability and we have to use it to our advantage.
We all make mistakes in business, it is how we deal with or recognize them that sets us apart from our competitors. Today I purchased a HP Printer, it is amazing and works great. Sadly HP no longer offer the plugin (USB Connecter) that connects your PC to your Printer. I could not believe this and on top of that they installed BING on my desktop browser without even asking. I sent the following tweet to both @HP and @HPNews.
@hpnews @HP You sell printers with no cords you're a genius… You install @bing without asking me nice one. #HP is still a #fail in 2012
I brought this up because without that cord my PC cannot communicate with the Printer. Well something similar happened to me in business, I found many of my customers did not understand the services they were purchasing.
Like my printer and PC we had a disconnect and I am lucky to have caught on to this before it started hurting my business. To solve this issue of disconnect I started sending monthly reports to all new and existing users. It includes links to their latest submitted articles, our Facebook groups and explains how we syndicate and distribute their blog content.
Keeping the consumer informed on how business works is a strategy that lays the ground work to a successful company.
The lesson learned for HP; HP should have started a "Going Green" campaign, contacted all their clients and educated them on how they needed to save their printer cords. Unfortunately they did not and now they have an unhappy consumer that feels left out. I am also confident a very large percentage of the HP printer market share feels the same.
So far Blog Engage has been an amazing success. The users are starting to understand the site more and they are engaging more while developing new relationships that benefit one another. I have also taken the liberty to create a more helpful FAQ page where members get a mini tour of our website and features. The lesson here is to educate your customers on your services, I assumed they would know what we did and that was a huge mistake.